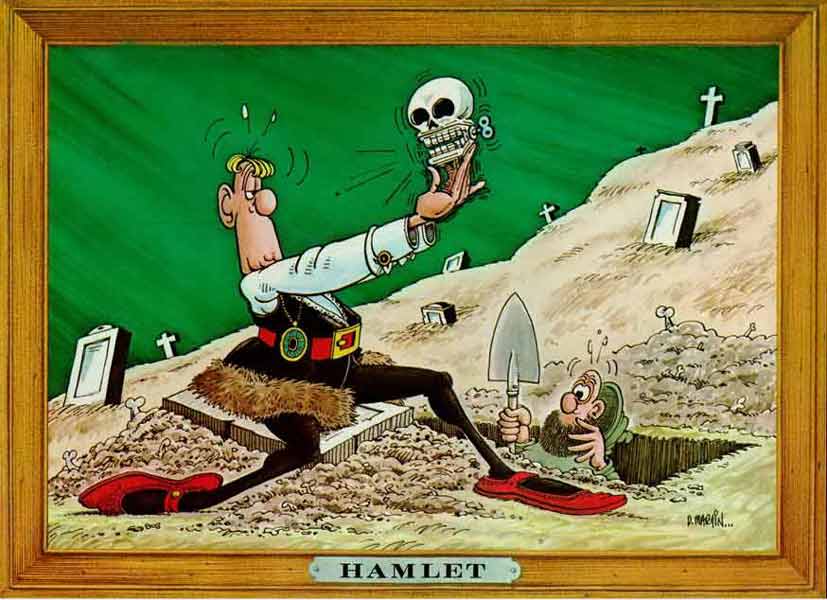 So because V. and I are both incredible nerds, we're devoting our summer to reading various versions and adaptations of
Hamlet
. And because we're both incredible nerds, we're taking you along for the ride, posting every yawn-inspiring moment of it to this blog. Here's our schedule, with dates left off because we're not yet to that level of incredible nerditude:
- William Shakespeare, Hamlet.
Naturellement.
- Tom Stoppard, Rosencrantz and Guildenstern Are Dead.
A crazy absurdist comedy based on Hamlet's indistinguishable buddies. We're reading this one early on because the
Shakespeare Tavern
in Atlanta is putting it on May 9 through June 1, and we want to be able to read the play first.
- John Updike, Gertrude and Claudius.
This whole project began as a way of forcing Shakespeare scholar V. to read Updike. I've not read this novel myself, but it's apparently a prequel to the play that leaves Hamlet mostly out of things. It'll be interesting to see how ostensible sexist Updike treats that dirty whore Gertrude.
- Heiner Müller, Hamletmachine.
V. suggested this one, which I've never heard of. Müller condenses the play into eight inpenetrable postmodernist pages.
- Film: Hamlet.
The classic and influential Olivier performance. I'm not wild about this idea, but we figured we needed to have a straight performance of the play.
- Film: Hamlet 2000.
Yes, the Ethan Hawke version. Why Ethan Hawke and not Mel Gibson or Kenneth Branaugh? Because Ethan Hawke doesn't hate Jews, and he never cheated on Emma Thompson.
- Film:
The Lion King
.
I love this movie, and it was my first exposure to the play. I was twelve when I first saw it. V. was eight, and even then, she thought it was a hacky ripoff of Shakespeare.
The semester ends in a few weeks, and I hope we'll get right on this series. In the meantime, if you have any suggestions as to texts or films to add to the mix, we'd love to hear them.